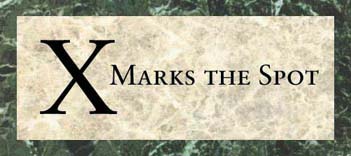 Hat Jacket Whip Bag Pants Shirt Shoes Lighter Artifacts
---
Pay attention to this spot for information on
tracking down all the Indy items you seek.
---

| | |
| --- | --- |
| There are several different options for the Fedora. Here are some of the offerings available: | |
Star Wars Insider, after a long stint with absolutely no Indy offerings, currently sells an authorized reproduction of Indy's fedora for only $36. The hat is a rough wool felt with a teardrop crown, and is generally regarded as not very accurate nor of high quality by Indyfan forum members.
Jawa Trader
1-800-878-3326
Order No: L58B(S/M/L/X)
- Fifth digit depends on size

---
Thanks to Joseph C. Brandstetter for the following:
He writes ... I would like to inform you that Herbert Johnson Hatters still makes the original Indy fedora and Mr. Swales still works at the shop. I know this because I know the general manager Richard Jaggs-Fowler from over the phone and written letters.

The shop was bought by Swaine Aideney and it moved to 10 Old Bond Street London W1X 3DB. If you wish to get more info on the hat, here is the phone number of the shop. Ask for Mr. Jaggs-Fowler.
Herbert Johnson Hatters
Phone: 0171 408 1174 or 0171 409 7277

The cost of the hat is said to be around 190 British Pounds, or US $320

---

Gary White of The Custom Hatter in Buffalo, NY claims to have crafted hats for use in one or more Indiana Jones movies. He currently sells a hand-crafted hat, which he terms an "exact reproduction of the hat originally made famous by Harrison Ford in Raiders of the Lost Ark" for a hefty $395.
The Custom Hatter
1318 Broadway
Buffalo, NY 14212
716-896-3722

---

The Allegro, made by Worth&Worth, is rumored to be a good match to the hat by Herbert Johnson.
Worth&Worth
P.O. Box 529
Ridgefield, CT 06877-0539
1-800-HATSHOP

---

Thanks to Bob V. Bailey for the following:
He writes: ... The model is the Stetson "Temple," Mink Brown, for $89.95 + S&H. It looks like THE REAL THING: High, creased crown (not a "tear drop" crown, like the Jawa Trader offers, which is, by the way, pretty cheesy, but I guess you get what you pay for) with a nice, wide grosgrain band and a 2-5/8" raw brim.
Greg Hildebrandt, Jr. is another satisfied customer of Stark and Legum:
He writes: ... To confirm all other reports, I would just like to add that the Temple model in Mink Brown is a perfect choice. Also, the company was very fast in sending my order, about a one week turn around.
Stark & Legum, Inc.
739 Granby Street
Norfolk, VA 23510
(804) 627-1018
1-800-357-HATS

---

Stetson also make several other posibilities for the Indiana Jones hats, including the "Indy", the "Ark", and the "Nostalgia" which is an unshaped hat which you can form to your liking.(see below)

Miller Hats has an online catalog where you can view and purchase these hats:

Miller Hats
3219 Houston Ave.
Houston, TX 77009

(713) 868-5877
Thanks to Groo for the following:
Color: Mink Brown
Ribbon:Black
Ribbon Width:
The narrower of 2
different available widths

"Let me tell you guys, the Stetson Nostalgia has to be the BEST fedora I have owned to date. I just went back yesterday and got another. I have said it before, but the factory outlet has the BEST prices anywhere around as well. Both my hats put together in price still cost less than what I have seen this model priced at on the web, be it Millerhats or any one. Just $25.99 folks... I am soooo satisfied with the quality of this fine fur-felt fedora. The size specifications are exactly the same as what is posted on the Diggs site for the Herbert Johnson Hat. They state the ribbon may be a little wide, but this model hat comes with several different ribbon widths and colors. Mine measured out exactly the same as the coveted Petersham(sp?) ribbon. And because this fedora is open-crowned or unbashed, I was able to form it PRECISELY the way it appears in the films. ...This is an EXCELLENT alternative for those of us who cannot afford the HJ or White hats. Also each hat is an expression of you because you form it yourself. ...if you don't live in the Midwest you can contact the Stetson factory oulet and they will have your fedora delivered. All you have to know is your size (ie. 6 7/8, 7 1/4 etc..*), the color you want, and the model fedora you are looking for. They are the exactly the same hats as are sold by retailers throughout the country. Most of their product line comes from overstock or items not purchased by retailers."

Stetson Factory Outlet Store
St. Joseph, MO

(816) 233-3286

They accept both Credit Cards or checks, however with checks they cannot ship until it clears. I know this sounds like a pain in the rear, but their prices are phenominal. As I mentioned before the Temple and Nostalgia fedoras were priced at only $25.99, so even with shipping it still beats the prices anywhere I have looked.

They DO take phone orders, however being an outlet store, they do not have a catalog. If you know a particular hat style by name(ie. Stetson "Temple" Fedora or Stetson "Nostalgia" Fedora), they can make arrangements to ship it to you. Again, being an outlet store they do not have a shipping department and you will have to go through a company called:

One Stop Shipping
(816) 232-2669

Inform them that you have an item for pick-up. I haven't used them before, so I don't know specifics such as shipping charges and delivery times. As far as where One Stop Shipping delivers you will have to contact them, I do know that they deliver anywhere in the US.

*This info is from a later post by Groo...To find your hat size measure the circumference of your head and divide by Pi (~3.14). However, it would be wise to visit a hat shop and try on some hats to see which size fits best.
| | |
| --- | --- |
| | For a comparison of the many different hats availible from HJ Hatters, The Custom Hatter, Stetson, and others., check out Luger's Fedora Page |
---

Peter Botwright, wested@compuserve.com, of Wested Leather writes...
"May I confirm that it was my company which made the jackets for Harrison Ford as Indiana Jones in the Raiders films. I still have the original patterns and specifications which date back to 1980. I was originaly commissioned by Bermans and Nathan Costumiers to make the jacket which was one of my designs dramatically altered to fit the requirements of the film's designer and of course Mr. Harrison Ford himself. Over the three Raiders films I made a total of 48 jackets covering the stunt men, stand-ins and Harrison Ford, for whom we had made jackets before. Lucasfilms have licenced companies to make copies of the jacket but they are only poor imitations as I have always kept the original design. I can supply to you an original specification duplicate of the exact jacket worn by Harrison Ford."
Wested Leather Co.
335/5 Ordnance Road
Enfield, EN3 6HE
England

Phone: 1992-762-946
Fax: 1992-700-476
(From U.S., use prefix: 011-44)

Price: £140 + £15 post/pac or US $249 + $26 S/H
Mastercard, Visa or by cheque.

Sizes: 38-46 regular or long (please include your height and any special sizing)
Delivery: Dispatched 14 days from order plus post time.Thanks, Dale Dassel

Many forum members have purchased these jackets and are extremely pleased with them. For more on this see Indy's Diggs-Jacket
---

The whips wielded by Indy in the movies were made by David Morgan. Constructed of kangaroo leather, the props ranged in length from 6 to 20 feet.
David Morgan
11812 North Creek Pkwy N, Suite 103
Bothell, WA 98011
USA

1-800-324-4934 (in the USA)
(425) 485-2132 (from abroad)
---

Thanks to Joshua Maley for the following:
He writes ...The original [shoulder bag] came from a military surplus store in London, and was a Gas-Mask Bag Mk-VII, actually made between 1941-42.

The Mk-VII Gas-Mask bag does come with circular metal rings for a shoulder-strap, but the original strapping is webbing, not leather. LucasFilm had the leather one fitted at Burmans and Nathans.

These bags are still available at various surplus and military collectible shops, and also a British roadster parts supplier! What Price Glory, The Roadster Factory, and Sentimental Journey have been used as sources for these bags by forum members in the past.
What Price Glory
206 Massolo Court
Salinas, CA 93907

(831) 754-2351

Jerry at White Price Glory charges $15 US for a well-used bag and $25 for a newer, less worn version

---

The Roadster Factory
P.O. Box 332
Armagh, PA 15920

1-800-678-8764

The bag is part number RFN291 "Nov Unissued Gas Mask Bag" and costs US $31.95 plus shipping. These bags are in very good condition since they were never issued.


---

Sentimental Journey
159 High St
Arlesey Beds
S915 6SZ
United Kingdom
Phone: 1462-83-5117 (From U.S., use prefix: 011-44)

The bag is currently priced at 20 pounds with an international shipping charge of 10 pounds. (~$55 US). These bags are very well used and worn.
---
Since the strap that come with the bag is rather short (these bags were originally worn at mid-chest level), you will want to replace it with a longer leather strap like Indiana Jones had so it can be worn by the waist. Some forum members have made their own strap after finding a leathercraft shop nearby. However, you can now purchase one from Noel Howard who worked on the original costumes! (Thanks to Matt Walker for tip that led to the following information)

Noel Howard writes: "I subcontracted the Jackets to Peter Botwright when I made the costumes for the movie. It was he that told me of the interest in the pants and shirts etc....Yes, we are doing the straps separately. We have some straps approx 65" long at 10.00 pounds sterling. Depending on your height these might be O.K. For somebody 5'10" upwards they need to be 71" long and these would be 17.00 pounds sterling."

Kind regards,
Noel Howard.

Noel Howard
0044-171-388-4994 (phone)
0044-171-383-2038 (fax)

"We accept Credit cards Visa/Mastercard. We usually send by Standard Datapost which would cost approx 25.00 pounds depending on what your order is and where you are."

Questions? Email Mr. Howard at: NHowardUk@aol.com

---

Thanks to Joshua Maley for the following:
As mentioned above, the pants were acquired from Burmans and Nathans, who since that time has merged with Angels of London into a company now known as Angels and Burmans.

While they are a hire-only company and don't sell clothes to regular folks, Noel Howard, who worked for them, IS offering his own reproduction for sale.
Thanks to Matt Walker for the following:
Noel Howard is offering reproductions of the pants for sale.
"I recently e-mailed Mr. Howard and he told me that he has the fabric and is making the Indiana Jones pants. He is making them both custom made and off the rack."

"He is the man who made them for the films when he worked at Angels and Burmans and he had the patterns. I think he has since then left and started another costume company with some of the people from angels."

Noel Howard writes: "The pants come either 'Off-the-rack' at 95.00 pounds sterling or Custom Made at 155.00 pounds sterling. The 'Off-the-rack' type are available in even waist sizes (30", 32", 34" etc.) with unfinished trousers hems for you to finish to suit. The Custom Made are finished by hand to your exact Tailor's Measurements (as provided for the movies). The two versions are identical in fabric and trimmings."

Noel Howard
see info under "The Bag" above.
---
| | |
| --- | --- |
| | Peter Botwright, of the Wested Leather Company, is reportedly planning on offering a reproduction of the pants soon. More information on this will be posted as it becomes available. Actually, at the moment it's unclear whether these are the same pants currently offered by Noel Howard or he is working on his own pair. Any more Info on this would be appreciated. |
---

| | |
| --- | --- |
| | The Original Shirt was made by Andre Dometakis. There is a rumor that Peter Botwright plans to offer a replica shirt. However, until then a reasonably priced alternative said by several forum members to closely resemble this shirt is the "Balloon Cloth Bush Shirt" in color "Light Natural" by Willis & Geiger. Also a shirt in a catalog from a company in the UK called Littlewoods is said to be a good copy. |
| | Littlewoods? More Info is needed on this! |
Thanks to IJFan for the following:
"I just received Willis & Geiger's Balloon Cloth shirt in Light Natural, and thought I'd post a little report about it.

First off, I'll be very clear about what it isn't.
It isn't an exact replica of the original article. It doesn't have the funky trim pieces running from the shoulders all the way to the shirttail, the pockets are sized differently from the original, and the buttons are very different.

HOWEVER, for all these differences, only the most diehard perfectionist would be likely to notice any of this. It's exactly the right color and weight of fabric, it's got epaulettes, and in general, it looks like an adventurer's shirt.

In the course of my searching, I think this is the closest thing I've seen to the original that can be bought off the rack. To get any closer, someone would have to be intentionally copying the original."

Willis & Geiger Outfitters
1902 Explorers Trail
Reedsburg, WI 53959-9676

1-800-223-1408

The shirt is item #4238-99F and sells for US $64 regularly/$44 on sale
---

Originally from Indy's Diggs and the Jones Equipment Shop:
The shoes/boots worn by Indiana Jones were the Alden Orthopedic Shoe #405. To find the closest source call Alden and ask for the nearest dealer of their orthopedic shoes:

Alden Shoe Company
1 Taunton Street
Middleborough, MA 02346


(508) 947-3926

See Indy Gear for detailed info.
---

Remember the "lucky charm" that Elsa gave Indy in the catacombs? Now you too can use it to set fire to a medieval castle...
Indy Magnoli (see "Prop Replicas" below) was previously offering the lighter at a 10% discount but he is out of the country and so cannot procure it. However, you can purchase it directly as an exclusive offering from The Studio, a distributor of Zippo products on the World Wide Web.
The Studio
P.O. Box 35
Lost River, WV 26810-0035

1-888-437-8834

The lighter is item #200DS D01 "Indy Clover" and costs US $39.95 + Shipping/Handling
---

Icons Authentic Replicas, makers of authorized Star Wars replicas, such as lightsabers and starfighter models, in a recent interview published in Sci-Fi Universe hinted that a reproduction of the Ark of the Covenant was forthcoming. Unfortunately a phone call to Icons revealed that Lucasfilm doesn't wish to license Indiana Jones-related reproductions at this time. Reportedly, Icons has prototypes of the Ark and the Fertility Idol from Raiders awaiting a change of heart from Lucasfilm.

Those who want do their part to motivate Lucasfilm, can contact Icons about where to direct their requests.
Icons Authentic Replicas
1317 N. San Fernando Blvd. #363
Burbank, CA 91504-4272
Phone: (818) 982-6175
Fax: (818) 982-7271

---
---
Thanks to Seamus and DrHose for the following:
| | | |
| --- | --- | --- |
| | Empire Enterprises makes a reproduction of the Headpiece to the staff of Ra and the Holy Grail. | |
---

(Not Indy, But Related Artifacts, Real and Reproduction)
---
For more information on Indiana Jones gear follow these links:
---
Site Author: Micah Johnson
Page Author: Abner (revision), Micah (original)
Created: October 1, 1996
Last modified: January 13, 2003
---